Welcome to Qayam Network, a Global Shia Muslim Network established in 2003 with a mission to promote the "Hussaini" values of universal peace, harmony, and volunteerism. Our organization is dedicated to carrying out the Azadari of Imam e Hussain (a.s) and working towards the reconstruction of Jannatul Baqi and Jannatul Moalla.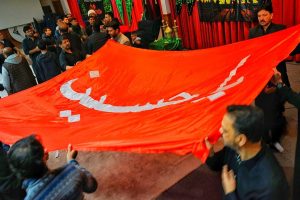 At Qayam Network, we believe that the message of Imam Hussain (a.s) is one of love, compassion, and selflessness. Through our various initiatives, we strive to promote these values and create a more peaceful and harmonious world.
Our network of volunteers works with registered causes across the globe to make a positive impact in the lives of those who need it most. From providing education and healthcare to supporting disaster relief efforts, we are committed to serving humanity in every way possible.
We invite you to join us in our mission to promote universal peace and harmony. Whether you are interested in volunteering, making a donation, or simply learning more about our work, we welcome you to explore our website and get involved with Qayam Network. Together, we can make a difference and create a brighter future for all.